Rector Ulcay: Doctoral Studies In The Advanced Technology Area Can Finance The Current Deficit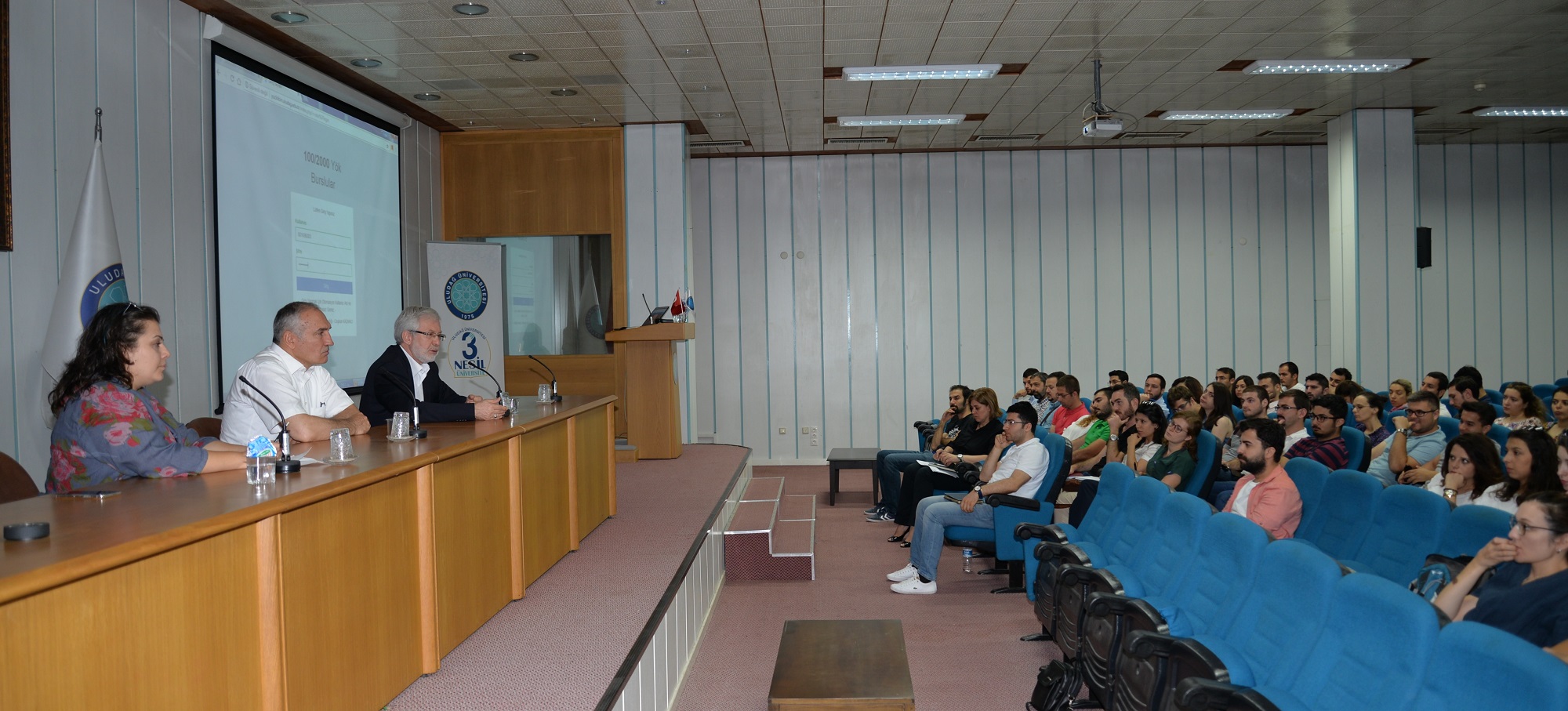 Bursa Uludag University Rector Prof. Dr. Yusuf Ulcay said that the number of doctorates for high-tech export products should be increased in order to finance the current deficit. Ulcay emphasized that PhD students working in this area are always welcome and announced that UU is the university with the most TUBITAK doctoral scholarship quotas.
Bursa Uludag University Rector Prof. Dr.Yusuf Ulcay and Vice Rector Prof. Dr. Aslı Hockenberger gathered with 125 students who received TUBITAK doctoral scholarship. At the meeting held in the Rectorate Hall A, participants were informed about 2211 and 2244 PhD scholarship programs, which have been newly announced by TÜBİTAK. At the meeting, Dean of Faculty of Education Prof. Dr. Muammer Demirel and Vice Dean of the Faculty of Veterinary Medicine Prof. Dr. Ebru Yalçın were also present.
4500 TL SCHOLARSHIP FOR DOCTORAL STUDENTS
Rector Ulcay noted that TUBITAK is making priority plans within the frame of Turkey's 2023 vision; "100/2000 scholarship program was prepared by Higher Education Council. It is aimed to direct students to those programs. We have done call programs twice this year. UU is currently the one with the most 100/2000 projects among universities. As the domestic scholarships that TUBITAK has called for with the code 2211 will be applied for by our students in the 100/2000 project, today we are going to inform our students about that. The amount of current scholarship for this project is 2000 TL for this year. It is possible for our students to get 2,500 TL more grant. Of course, there are things that need to be done for this. Today we will talk about them. In addition to this, we will give information about 2244 program industrial doctorate. We will meet not only with our students, but also with the managers of the R & D centers in the city, "he said.
Ulcay underlined that students could receive a scholarship of 4 thousand 500 TL per month for 4 years; "Students will be granted 75 percent of this figure by TUBITAK and 25 percent by the R&D firms we negotiated. There is a 3 year working condition for these firms after the PhD study is finished. The post-doctoral salary will be three times the minimum wage. 60 percent of that salary will be given by TUBITAK and 40 percent by the firm. We told all about these programs to our deans and the institute managers last week. Today we are telling to our doctoral scholars. "he said.