Bursa "Gives National Voice" to Domestic Production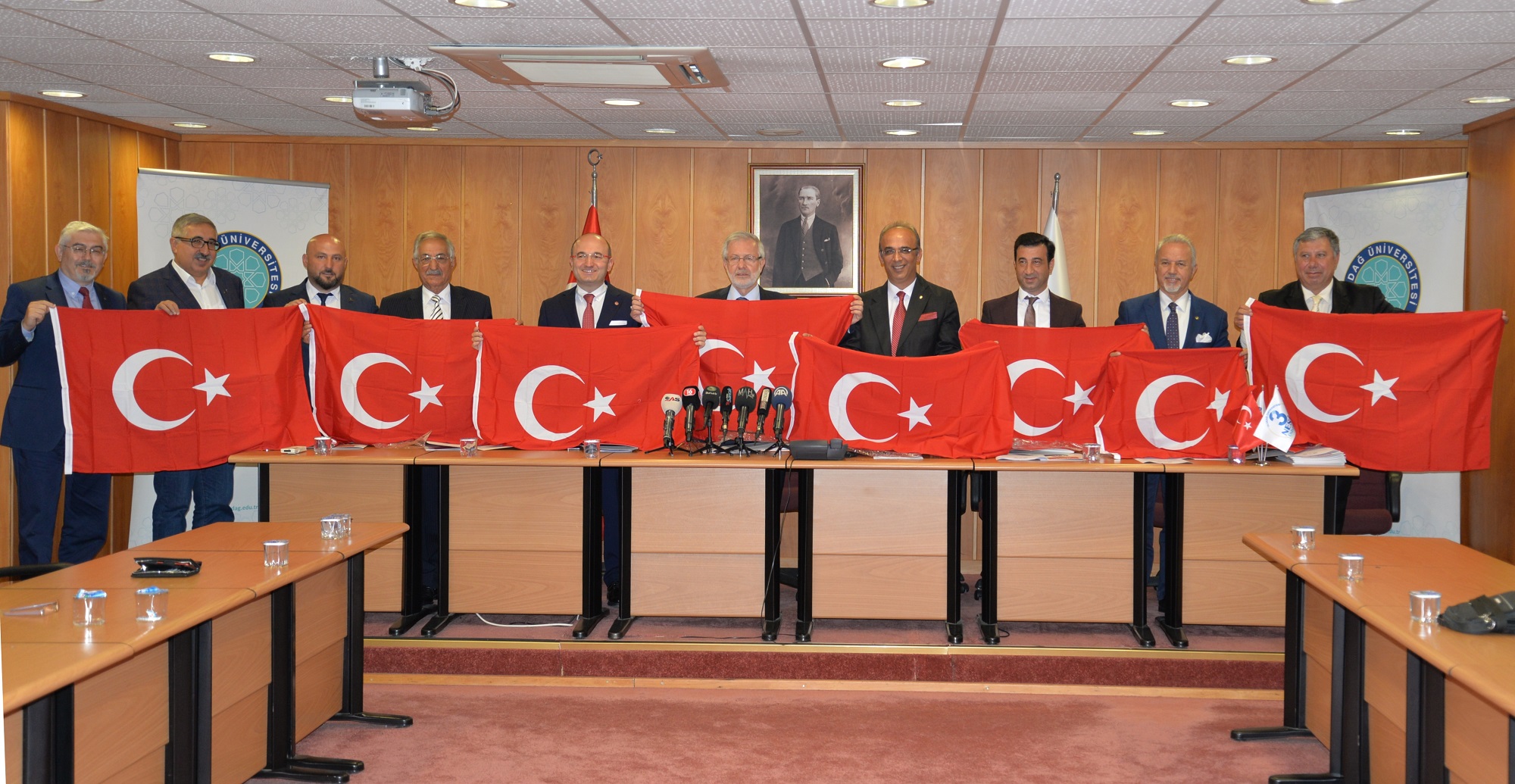 Public and non-governmental organizations operating in Bursa have called for more support for domestic and national production through the 'National Voice' project. More than 150 events will be organized in 2019 under the leadership of Bursa Uludağ University, BTSO, KALBİR and Commodity Exchange.
The 'National Voice' publicity meeting was hosted by BUU, and was attended by Rector Prof. Dr. Yusuf Ulcay, BTSO Board Member Muhsin Koçaslan, President of KALBİR Prof. Dr. Erkan Işığıçok, Bursa Commodity Exchange Vice Chairman İbrahim Özhan and representatives of the public and non-governmental organizations.
NATIONAL PRODUCTION A MUST TO BUILD A FUTURE
Speaking at the meeting, BUU Rector Prof. Dr. Yusuf Ulcay stated that to achieve the developmental objectives identified for Turkey with the vision of 2023, 2053 and 2071 is only possible if we produce global brands with high competitive potential. Ulcay underlined that within the last 15 years, very important steps have been taken in this sense. "Aside from the chaos plans to prevent our country from developing, there are now economical attacks. Despite all this, the basic condition for us to build a strong future for our country, which is one of the world's fastest growing economies, is to ensure the success of the domestic production.
2019 WILL BE A YEAR OF EVENTS
Head of KALBİR Prof. Dr. Erkan Işığıçok announced that they launched the National Voice Project in 2017. He also stated that they are determined to continue this project in 2018. " We can see that our government has started to implement some incentives, especially on domestic production issues. We first decided to continue this project until 2023. In the current economic conjuncture, it was an important move to close the current account deficit and to start the infrastructure of increasing employment with domestic production. We want our project to spread throughout the country and even abroad. We will continue to introduce our project in 2019 with more effective activities. We plan to perform more than 150 events. We, as the Quality Association, give a voice. We want a quality sound from all segments of society. " he said.
THE CODES OF QUALITY SET IN BURSA 500 YEARS AGO
Speaking at the meeting, BTSO Board Member Muhsin Koçaslan underlined that it is necessary to be rule setters for being a strong country. Muhsin Koçaslan noted that quality management is of great importance at this point. "The factor of quality is not a new concept in our country, which breaks world records in export, production capacity and growth rates. In 1502, our ancestors issued the world's first written consumer law in Bursa. As Bursa Chamber of Commerce and Industry, we will continue to take part in all projects that create value for our city and our country. Our National Voice Project is of great importance for our country and especially the city of production, Bursa. We are aware of the fact that this project is entirely due to a domestic and national stance. We believe that Turkey's stable growth will be due to the increase of domestic production facilities. Our country has taken great steps in domestic and national production in the last 15 years." he said.
At the end of the meeting, the representatives of the institutions engaged in the project posed together with the Turkish flag.